Did you decide to try Wizzley out? You need few tips for starting your first page (wizz) on this web2.0 blogging platform? Here you can find everything you need to know about how to write a great article on Wizzley and earn money from it in no time.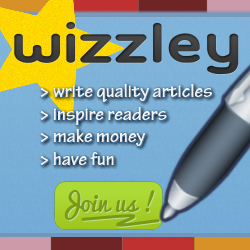 Wizzley is relatively new web2.0 blogging platform created in best tradition of Squidoo and HubPages. It is, also, one of the best revenue sharing writing communities online. Google loves it, and your articles have great chance to rank high in Google search. The only thing that stands between that and failure is the knowledge:
how to create stunning articles on Wizzley that will actually earn you money?
Wizzley really is an excellent place to write, and to be writer.
With its friendly community, easy and cute interface, excellent revenue sharing policy, this blogging platform is becoming the one place you have to be on if you think to succeed in online publishing. You can read more about Wizzley in this section:
What is so great about Wizzley?
How to Write a Stunning Article?
You need to write about things your readers would like to read about. Quality and abundance of information is something your articles must have. And remember: quality and originality is what Google appreciates the most.
Every writer seeks for new tips on how to write better, and how to rank higher on search engines. There are plenty sources online to teach you that. I would like to explain some standard principles you should know before you write your first article/page/wizz on Wizzley. Folks who run this cool writing platform are very strict when it comes to publishing content there.
No plagiarism is allowed!
Only original content can be published. They tend to meet all Google's TOS. And that is why Google loves them. That is why we all love to write there: published articles rank high on search engines, and they do it fast!
Your article must be informative.
Don't let your readers leave the page without getting the information they came for. Try to write more than 400 words. Wizzley asks for less that 400 words, but it will only serve you if you make extra effort. Long wizzes will have extra chance to get on first page for certain keywords.
Try using as many writing tools from your right editing menu as possible
. Place some images, polls, quizzes, duels, and other tools inside wizzes, to make it more fun and reader friendly. This way you will be able to track readers' interests, engagement...
Write about something new, something that no one has written about.
It is hard to find such topic among billions of pages on the Internet. But, at least, we can try to do it when it comes to writing platforms we write on. If, for example, you decide to write about Prometheus, the movie, and it happens there is already a wizz about it; I suggest you try writing about something else. Or, at least, contact the writer of original article about the Prometheus, and propose cooperation. What do I want to say is this: you write different review of the movie (something from your own angle) and later you and other wizzer just interlink those two articles. This will boost traffic to both articles, and will avoid the possibility of being ignored by Google. You can see the examples here:
Psychology and Pseudo-Science in Ridley Scott's Prometheus
This article is a review of Prometheus written from different angle, and there is a link inside, pointing to a specific chapter of similar article:
Movie Review of Prometheus
I always point out the
importance of knowing and implementing the basics of HTML
. Use it to style your page a bit up, to make few SEO tricks...I use HTML where ever I can: creating anchor text, changing paragraph background, adding H tags, placing adds, making excerpts,... I strongly suggest you try to learn basics of HTML and CSS. It is not hard at all. You can try out these guides for beginners on Amazon (look below).
What do you need to start making money on Wizzley?
You want to earn some money from your wizzes? Now that you know how to create quality page on Wizzley, next step would logically be to learn about what to do to make it earn you some money.
This article publishing directory has many tools to help you and them earn as much cash from your wizzes as possible. Wizzley uses various affiliate programs to host their ads. When your reader clicks on some of those ads, or buys a product behind the affiliate link, you get fair 50% percent of the revenue.
That is right: they share all the money earned by those affiliate partners 50/50 with you. You can see the list of affiliate partners in this article:
Earn the money on Wizzley with these affiliate partners!
.
You have to choose which affiliate partner suits you the best. I personally combine Amazon, AdSense and Zazzle, and I am not regretting it yet. It is up to you!
Update your articles on Wizzley frequently!
It is important to proof-reed your wizzes from time to time, to check if there is something your should correct, or maybe update it with new information, or your links have expired. Forgotten article is not earning money for you!
It happens a lot that some of your links to products on Amazon, Zazzle... just become dead. Someone could've removed the products from the landing page. This means that if you have a possible buyer, their simply won't find what they were looking for. This, also, means you will not earn a penny from that link.
So, take a minute or two to check if everything is running smoothly on your pages.
Some info might be old now, and this too needs your attention. You don't want to be called a dinosaur because you are presenting only the old information. Do you?
Maybe something new came to your mind months after you've published some text, and guess what: you could simple add it to related article. Every related content is welcome!
Wizzley: How To Write Stunning Article That Will Earn Money! CONCLUSION!
Have in mind that the content is more important than the amount of ads and affiliate links in your pages! You won't earn dime if you write about something that has no value, and that has nothing to offer your readers, no matter if you put 100 affiliate links in the text. But, one link per one high quality page can earn you nice amount of money. So, the lesson from above is the most important in this article. Learn how to write a stunning wizz before you grow hope of earning anything there!
Similar articles!
I hope this post was useful! If you need any info, feel free to ask in comment section!
Thank you!
© Discovero: the blog for geeks